For my birthday this year I organised a high tea. I received many compliments for the entire spread. It did take me a whole day to prepare for it, but it was delicious! This is a list of the food I made, and some tips.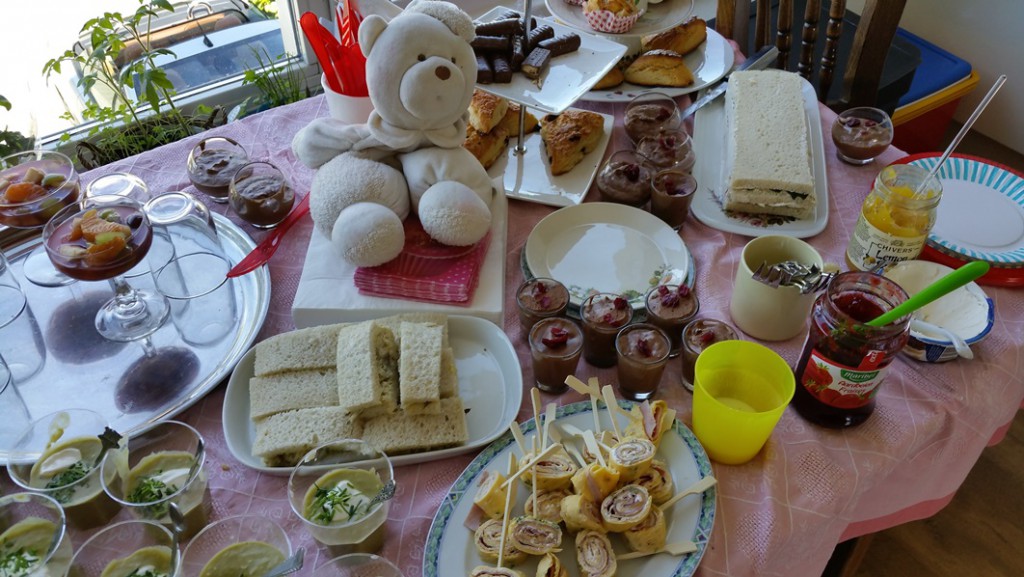 Omelet rolls: Mix up eggs, finely sliced chives and some cream to make the egg mix. Fry thin omelets. Let the omelets cool and spread out cream cheese, cover with ham. Roll the omelet up. Wrap your omelet roll in cling film. You can make the rolls 1 to 2 days in advance. For serving, slice and serve these lovely pinwheels.
Fruit punch: Peel and slice your favorite fruits. Make sure you have various colors. Add some fruit juice. Cool your punch and serve it in dainty glasses.
Mini chocolate mousse: Make your favorite mousse recipe and serve in shot glasses or little jam jars. I garnished them with dried cranberries.
Small cups of vichyssoise soup: This simple cold soup is made with potato, onion and leek. I served it in small glasses with a teaspoon of greek yoghurt and some chives.
Scones: My most important tips: don't knead your dough, rub to combine the flower, sugar and butter, then stir to combine using milk or buttermilk. Wrap your dough in cling film and let it cool for up to 24 hours (in your fridge). This way you can work ahead. Take your dough from the fridge and cut your scone shape quickly then bake right away. Cooling and resting your dough gives you the lightest scones you ever had!
For those who don't live in the UK: use mascarpone instead of clotted cream.
Savory pies: Using puff pastry line a muffin mold. Fill each cup with ham, peas, cheese. Fill the cups up with eggs and cream. Bake for 20 mins at 220 degrees C.
Pizza squares: Make a large pizza a day before. Warm it up in a 160 degrees C oven for 20 minutes. Cut your pizza into squares and serve.
Cut candy bars into bite size chunks for inexpensive little treats.
Serve with tea, coffee and white wine
For a relaxed party:
Make sure you prepare well in advance and make lists.
Find recipes you can prepare 1 or 2 days in advance that take little assembling.
Ballance hot, cold, sweet and savory dishes.
Don't try complicated recipes for the first time.
Make sure you have enough refridgerator space.
Make sure you have enough oven space.
Make sure you have enough china. Buy teacups and saucers at your local thrift shop or lend them from friends and family.
Use some disposable plates and cups, for less washing up.